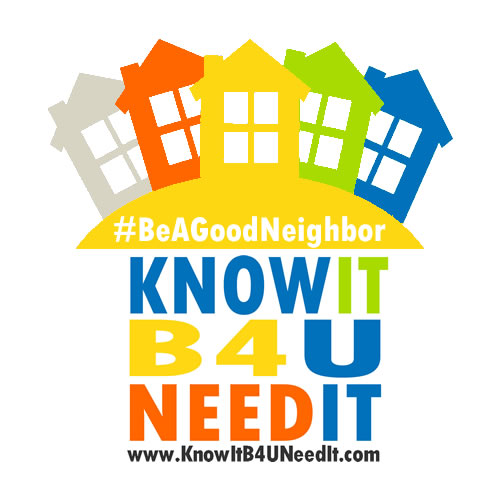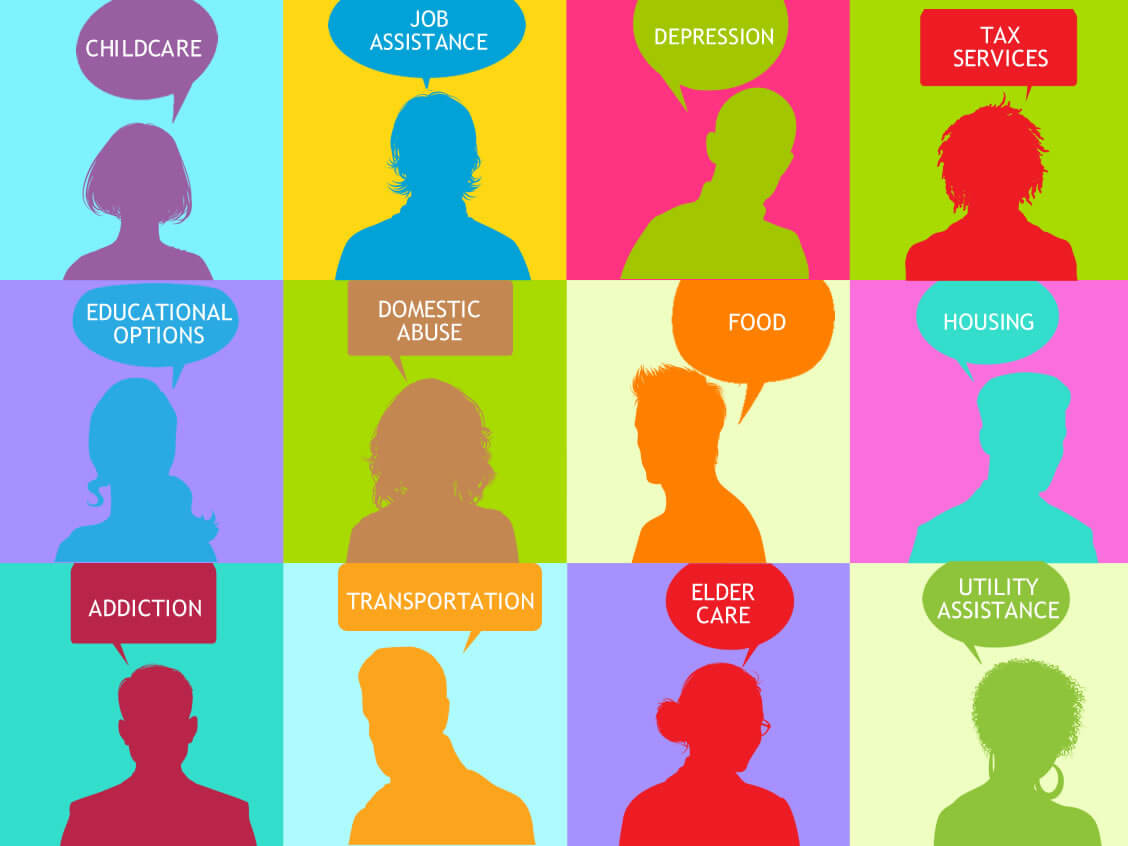 Call 211
Know It B4 U Need It
Or Know Where to Find It!
www.KnowItB4UNeedIt.com
Know What?
Have you ever needed to KNOW IT BEFORE YOU NEEDED IT?
Have you found yourself looking for a solution you hadn't been taught in school or on a job?
Many times we learn valuable information during life changing events we aren't able to predict. Or, we find ourselves frustrated trying to help family or friends manage their life events. And of course these changes RARELY come at an easy or convenient time. And these events NEVER come with a "How To" manual!
So where did you go? How did you find your answers?
Did you search the internet to find resources for YOUR situation and feel worn out from too much information or frustrated after sifting through pages & pages of content only to find out the material was old, inaccurate or confusing?
That's why the Richland County Mental Health & Recovery Services Board , First Call 211, NAMI – Richland County (National Alliance On Mental Illness), 33 Forever and local service providers are partnering as a Trauma Informed Recovery & Resilience Oriented Community of Care to help you Know It Before You Need It — Or Help You Know Where to Find It!
With the help of our newest partners Mid-State Multimedia Group, RichlandSource, and The United Way of Richland County we are canvasing our community with posters, flyers, billboards, TV/Radio and social media posts encouraging Richland County residents to find out about mental health, recovery, and general life services available to them.
We want to be sure our citizens know how to reach our First Call 211 and other social service agencies that can help find resources, services, classes or contacts to help with urgent life changes or for direction with educational or self improvement goals.
What's the 1st Step?
Get your copy of the Richland County 1 Pager. Just click the button to download a copy for you or a loved one. Do you own a business? Keep a copy at work for your employees. Are you a leader of a local organization or Pastor of a church? Keep a copy on hand for your staff or members. This is the easiest way to help people #KnowItB4TheyNeedIt
Download the Richland County Ohio 1 pager for contact information for Help with Mental Illness & Addiction.
Step 2: Take Advantage of 2-1-1 for Richland County Information
Let the experts at First Call 2-1-1 be your "Go To" for all things Richland County.
First Call 2-1-1 is a free, confidential community service. Their mission is to provide useful information to the public and to help you find exactly what you need. Whether the issue you're dealing with is simple or complex, they are here to help! Their up-to-date database allows them to search through local services and match your needs to the proper organizations and agencies to connect you to the help you need in Richland County.
The First Call 2-1-1 staff is trained and nationally certified to guide callers through the complex human services network. Sometimes situations can seem so overwhelming that it can be hard to see a solution. If you don't know where to turn or who to call, start by calling 2-1-1.
Alternate Line: 419.522.4636 Toll-Free: 877.795.2111
Available 24 hours a day 7 days a week by telephone.
Learn more about 2-1-1. This is the easiest way to #KnowItB4TheyNeedIt.
Step 3: Share this Information with Others
Let your friends and neighbors know about the Richland County 1-Pager and First Call 2-1-1.
These are important resources to share with your employers, employees, social groups, churches, family, friends and other organizations.
Knowing where to go for help, where to find support, information and answers helps make facing the unknowns of life so much easier.
We also provide FREE community speakers for many topics in Mental Health, Addiction, Prevention and Trauma Support.
Want your organization to #KnowItB4UNeedIt? Contact us to schedule a conversation, class or event.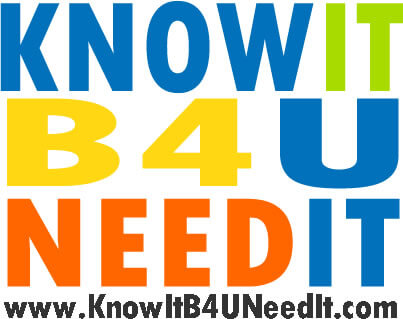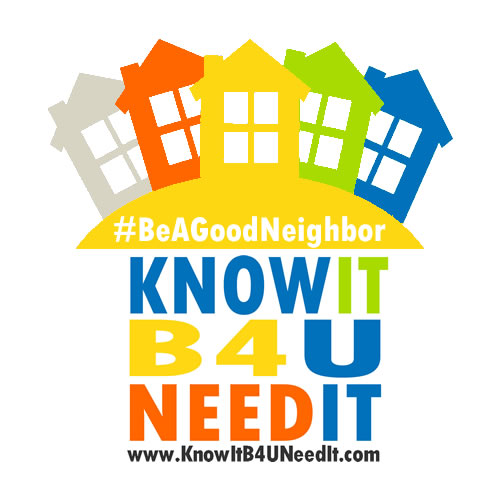 Step 4: Join the #BeAGoodNeighor Program
Our 2021 Goal is to help more of our neighbors Know It B4 They Need It. Over 30 local organizations (and growing) are partnering to help us highlight current programming and resources for Richland County, Ohio residents including general information, local events, social services, mental health, addiction & recovery services, directives to help us cancel COVID-19 and more. Can you Be A Good Neighbor?
How Can I Be A Good Neighbor?
Be Well. Do my best to stay healthy by wearing a mask, observing physical distancing, washing my hands regularly, limiting unnecessary travel.
Be Neighborly. Check on the people in my "neighborhood". This can be the people on my street, the people I work with or people I am in shred interest groups with. I commit to checking in with them regularly.
Know What's Happening. Keep up with Richland County happenings by reading local news, listening to local radio & TV, follow on local social media or sign-up for news letters from local agencies.
Volunteer. Use my skills and talents to support local projects, groups and community organizations.
Is your group or organization interested in being part of the #BeAGoodNeighbor Program? Contact us for more details.
UPCOMING EVENTS:
SEPTEMBER IS RECOVERY MONTH
Our local, Richland County Mental Health & Recovery Services Board is focusing on RECOVERY & BUSINESS: Bringing RECOVERY Supportive Businesses TOGETHER with people in RECOVERY ready to return to the workplace.

Visit our calendar for this month events:
Mental Health & The Church September 11, 2021
Download Flyer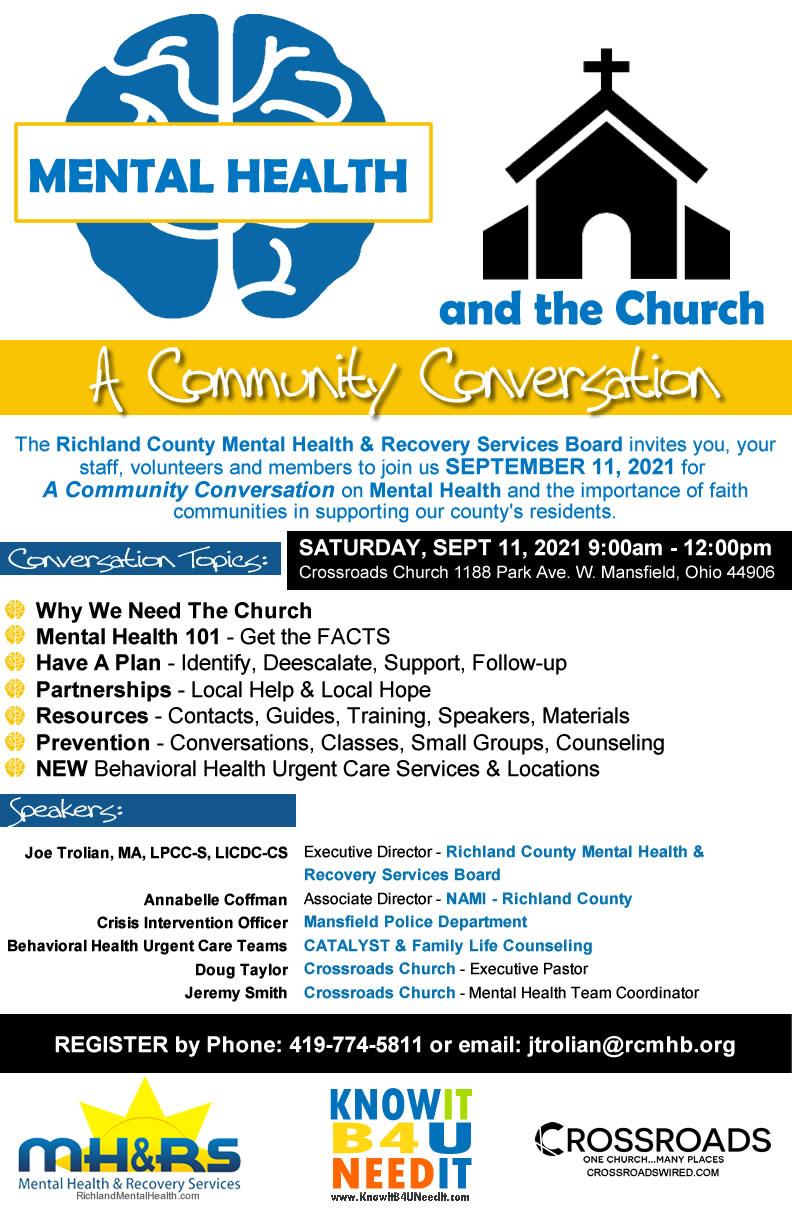 Recovery & Business – 2 Part Breakfast Series
Download Flyer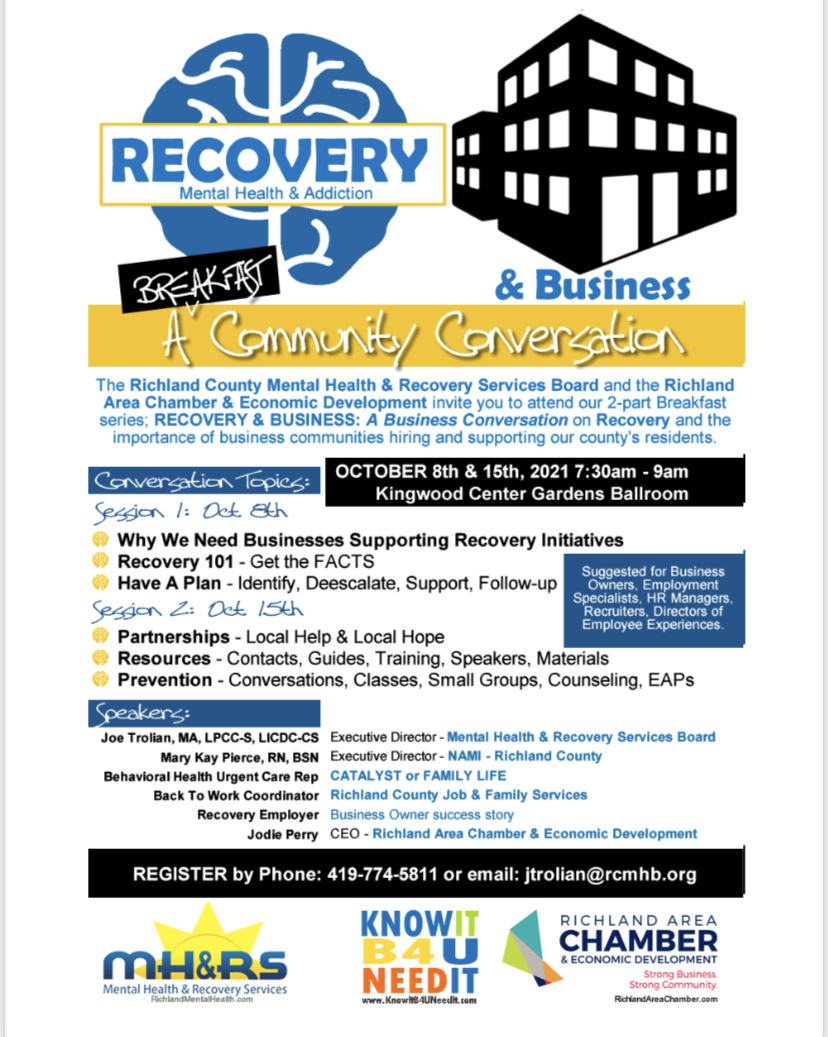 NOW OPEN! 3 Behavioral Health Urgent Care Locations : Download Flyer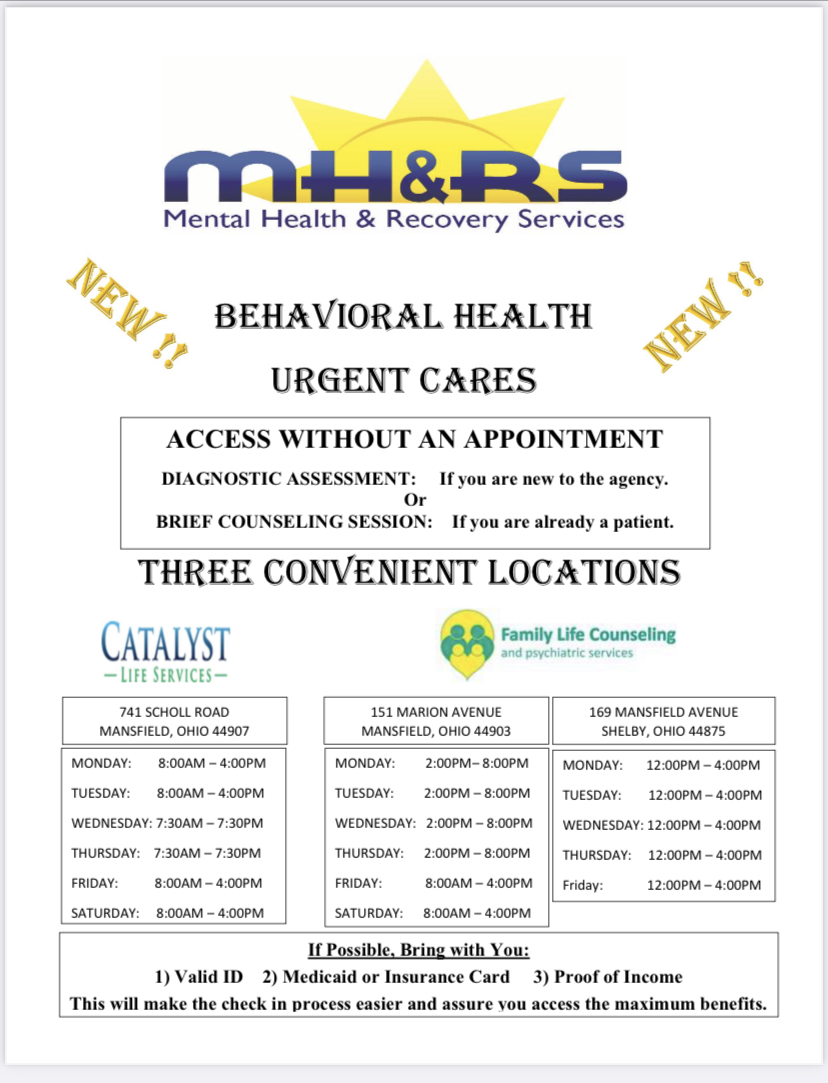 #BeAGoodNeighbor Virtual Town Hall : Download Flyer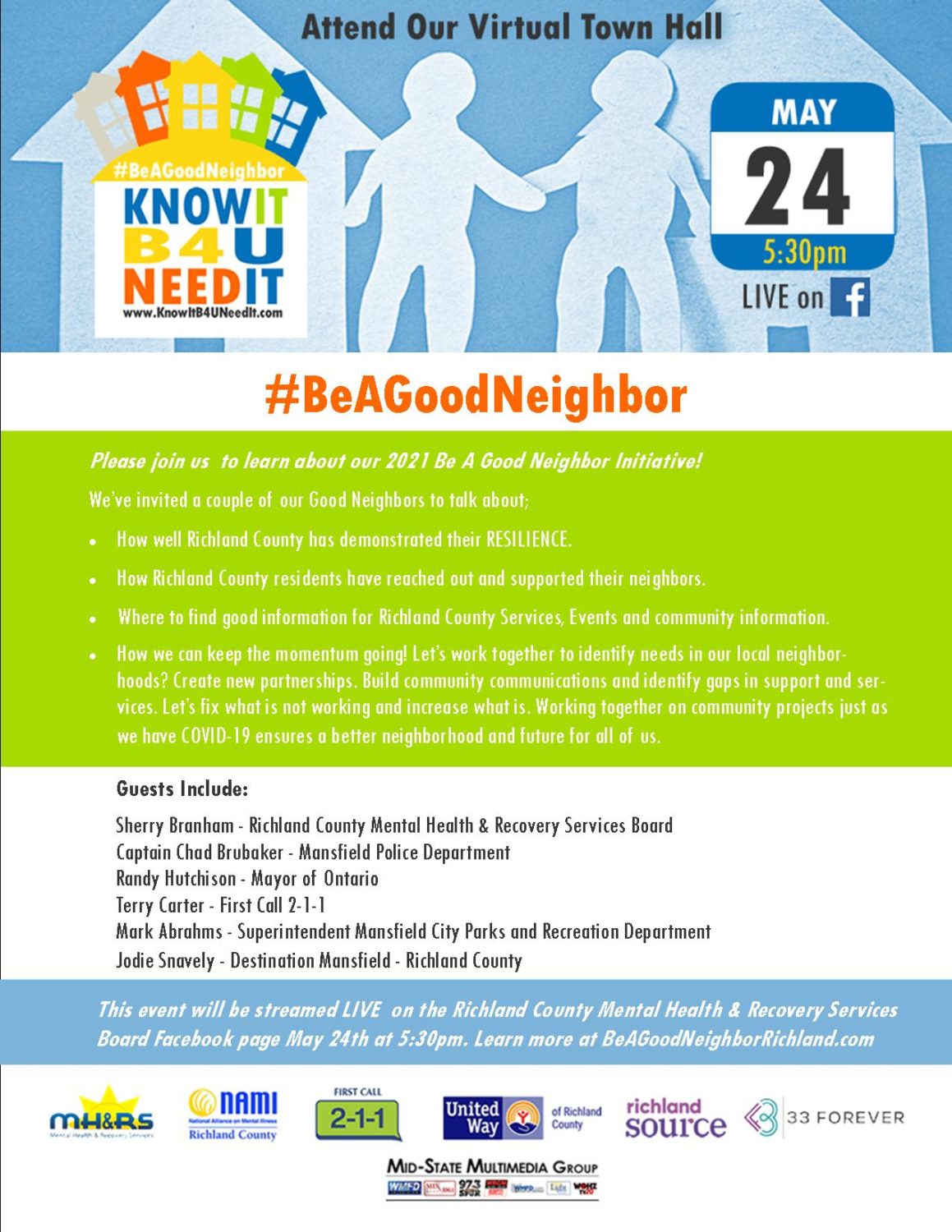 Community Stretch: For Mind, Body & Spirit – 12 Weekly Sessions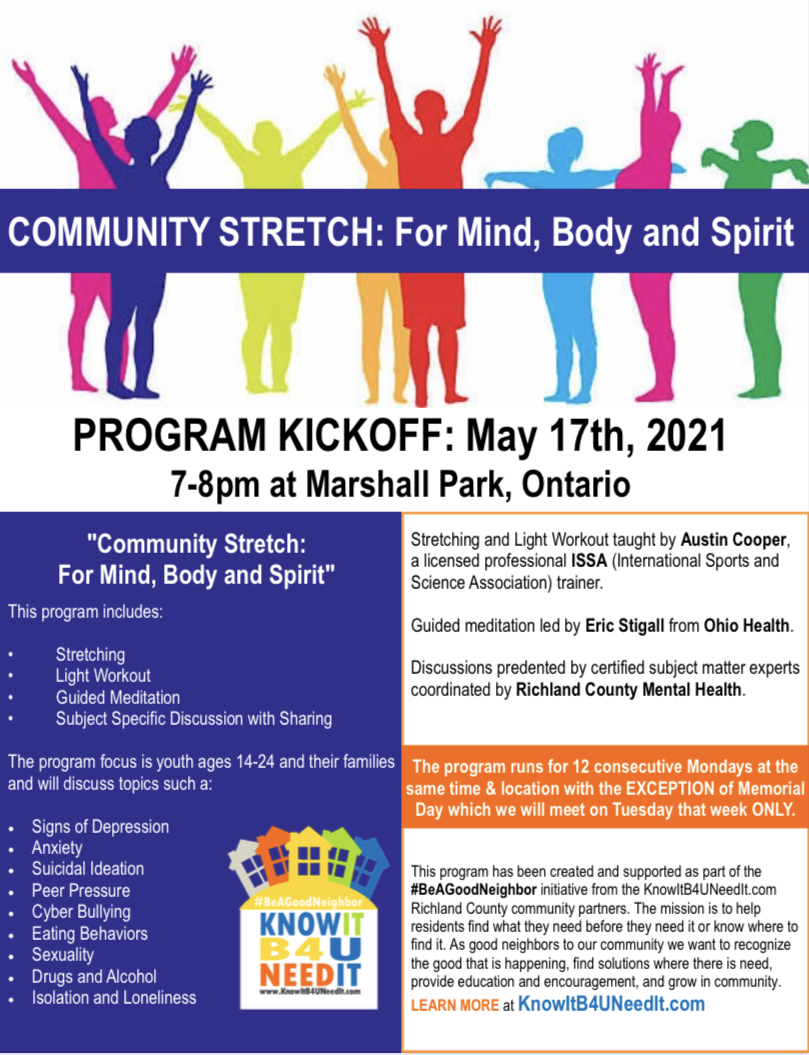 1st Annual Richland County High School Graduating Senior Week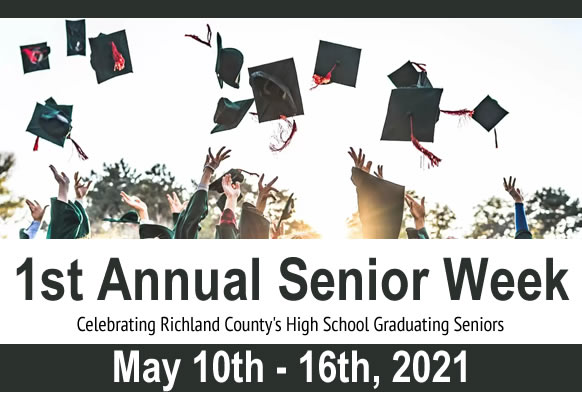 OUR REQUEST: During our 1st Annual Senior Week – May 10th – 16th, we are asking Richland County businesses to offer a product or service for FREE or at a discounted rate for graduating seniors. Seniors will present a school id, or they will be given a "senior card" to present as proof of graduation.
THE BENEFITS:

1. We Celebrate the Success of our Citizens!
2. Connecting our newest Richland County adult citizens to our community of businesses, organizations, and services to support their life in Richland County.
HOW TO PARTICIPATE: Complete this brief Google Form with your offer https://forms.gle/y8edVnNPk74GTTtE7
If you have any difficulties or questions email KymLamb@yahoo.com or call 419 571-0204
Your business will be listed on this page with all of the offerings from Richland County businesses and shared with the graduating High School Seniors in our Richland County! Thank you in advance for helping us #BeAGoodNeighbor
Visit our calendar for more Mental Health Events here.
The #KnowItB4UNeedIt Team had the chance to sit down and be neighborly with Jay Fox on his show CoffeeTalk on WMFD TV. The Richland County Mental Health & Recovery Services Board Executive Director Joe Trolian, Associate Director – Sherry Branham & Board Member Kym Lamb joined Jay in discussing, the different types of "neighborhoods" we belong to, how we can be good neighbors, how to stay neighborly safely due to Covid-19. They offered practical suggestions how we can reach out to NEW neighbors and how our personal decisions affect all of our neighborhoods. Please join us in the conversation. Comment below with what things your neighbors have been doing to support each other? Feeling alone and need to reach out? The Richland County Warm line is 419 522-5300
For a full list of Richland Count information and support numbers visit find help . We want to help you Know It Before You Need It or Know Where to find it!
Learn More About Our Partners : The Know It B4 U Need It is an initiative focused on connecting Richland County residents with information, services and supports. Helping to discover answers to county questions or find help and hope in a crisis. Lead by NAMI-Richland County in partnership with the Richland County Mental Health and Recovery Services Board, First Call 2-1-1, United Way, Mid-State Multimedia and Richland Source the #KnowItB4UNeedIt team strives to unite people with the help they need. Our community challenge in 2021 is to help our neighbors find this information too.
Who Is First Call 211?
First Call 211 is a free, confidential community service. Assistance can range from simple is to much more complex issues, and their up-to-date database allows them to search through local services and match those in need to the proper agencies for help.
Their staff are trained and nationally certified to guide callers though the complex human services network. Sometimes situations can seem so overwhelming that it can be hard to see a solution. First Call 211 staff members can help a caller by directing him or her to agencies in the area that could help with the particular need, while also examining resources the caller might already have.
First Call 211 is a collaborative partnership between the Mansfield Richland County Public Library and Richland County Job and Family Services.
What kind of information can I receive from First Call 211?
First Call 211 focuses on non-emergency community information.
Food Pantries and Community Meals
Housing/Shelters
Financial Assistance Information
Utility Assistance
Transportation Options
State and Local Government Offices
Consumer Protection/Consumer Education
Seasonal Assistance
Abuse Reporting
Food/Nutrition Programs
Immunizations/Health Care and Screenings
Educational Options
If the call is an emergency please call:
Mental Health/Emotional Crisis: 419.522.4357
Fire/Police/Rescue Squad: 9-1-1
How Do You Contact 211?
Just Dial (2-1-1)
Some telephone service providers may not support three digit dialing, but First Call 211 can be reached at this alternate number: 419.522.4636 or Toll Free: 877.795.2111 (Note: If you are calling from a cellphone without a 419 area code please use the alternate numbers.)
First Call is available 24 hours a day, 7 days a week by telephone. A staff member will assist you throughout the call to define the nature of the inquiry, and explore solutions together. To best assist you, the staff member may ask questions (such as age, zip code, and status of others in the household) to help determine eligibility and direct him or her to the services that best meet his or her needs. ALL information shared during a call is confidential.
Need to Speak with Someone In Person?
First Call 211 of Richland County has walk-in services available from 9:00am–4:00pm Monday through Friday at their office. They are located at 36 West Third Street Mansfield, OH 44902. Just across the street from the Main Library Building.
Are You Looking Specifically For Mental Health & Recovery Services?
We would like to connect you with the Richland County Mental Health & Recovery Services Board's service provider agencies.
Do You Want To Help Others Know It Before They Need It?
Please share First Call 211 with family, friends and others in need. Let them know there is help and it is just a phone call away!
Thank you!