May Is Mental Health Awareness Month 2022
May 1, 2022
@
8:00 am
–
5:00 pm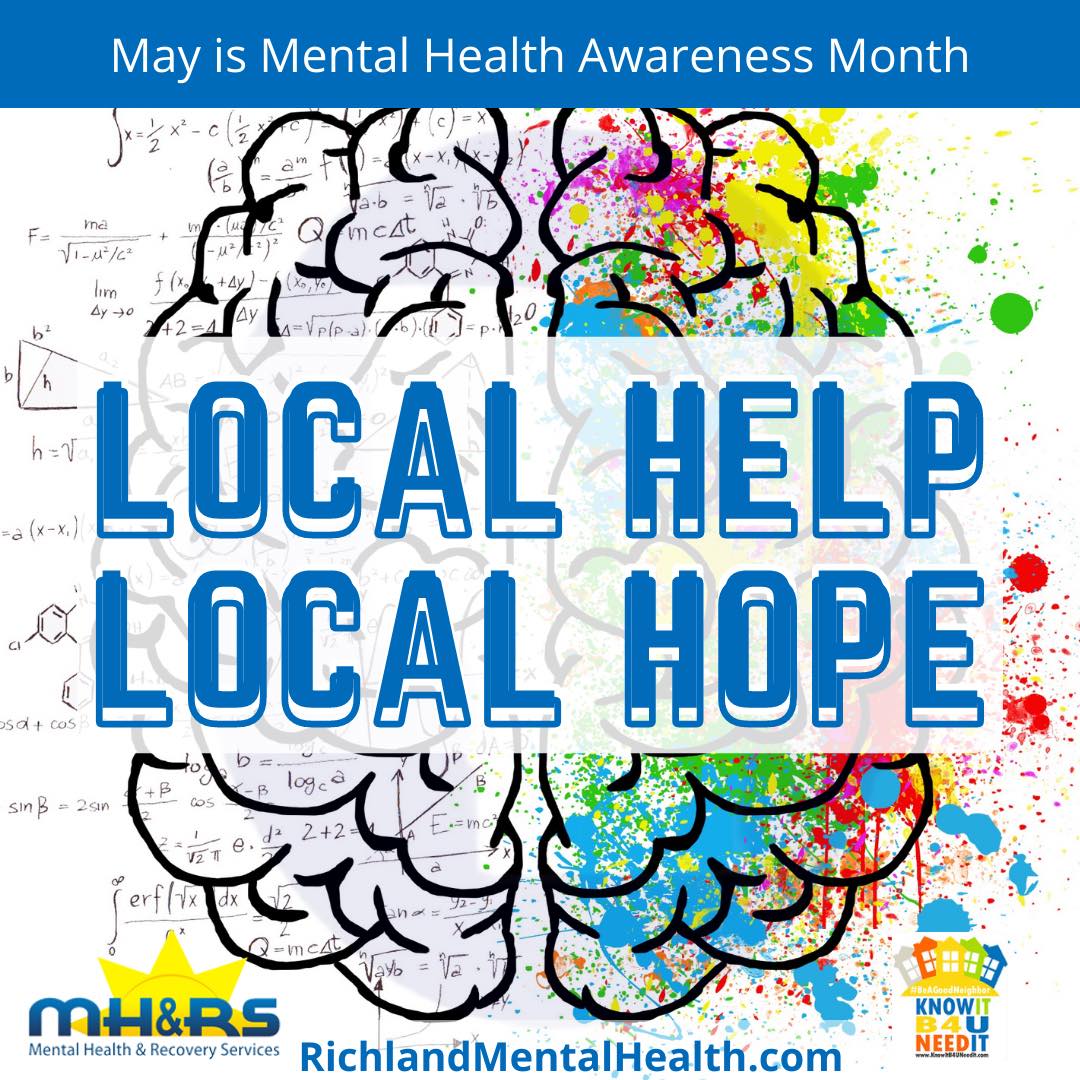 The theme for May is Mental Health Month 2022 in Richland County is "Local Help – Local Hope"
Where there are people that care – there will always be HELP and HOPE and Richland County, Ohio is RICH in people and organizations that are passionate about the community and the people in it.
We are continuing the "Know It Before You Need It" initiative that is designed to communicate mental health and recovery information throughout Richland County. We want our residents to know of the available services before they need them. Our 'Good Neighbor' movement goals are to activate more people to be aware of mental health, HELP and HOPE in Richland County and be equipped to share that information at any time with a friend, neighbor or family member in need.
And lastly, we are "Moving Forward", we have learned a lot about our ability to be resilient over the last 2 years. We have seen how our organizations and community members have worked exhaustively to provide innovative care options to stay connected with those in need. We know access to care is the key. We offer the following support to Richland County, Ohio:
24-hour Crisis Line 419‑522‑4357 (HELP)
Warmline at 419-522-5300. Just need to talk, but you are not in crisis
CATALYST LIFE SERVICES: BEHAVIORAL HEALTH URGENT CARE
741 Scholl Road, Mansfield
Monday, Tuesday, and Friday 8:00am to 4:00pm Wednesday & Thursday 7:30am to 7:30pm
NO APPOINTMENT NECESSARY
A Behavioral Health Urgent Cares gives access to initial assessments and brief, solution-focused counseling 5 days a week including evening hours, on a walk-in basis. We know that when someone decides they need help it is essential that they can access care quickly and conveniently.
As a community, we want to thank and encourage Richland County residents, government agencies, public and private institutions, businesses, and schools for continuing to serve our county. Being aware of prevention, intervention and postvention supports on the mental health journey gives ALL of us the ability to provide Local Help and Local Hope.
Throughout the month there will be celebrations, events, and opportunities to increase your Mental Health knowledge and to learn more about services and service providers available in Richland County, Ohio.
Follow us on Facebook & Instagram to be part of the Richland County Local Mental Health Awareness Conversation with HashTags #LocalHelpLocalHope #MENTALHEALTHAWARENESSMONTH2022