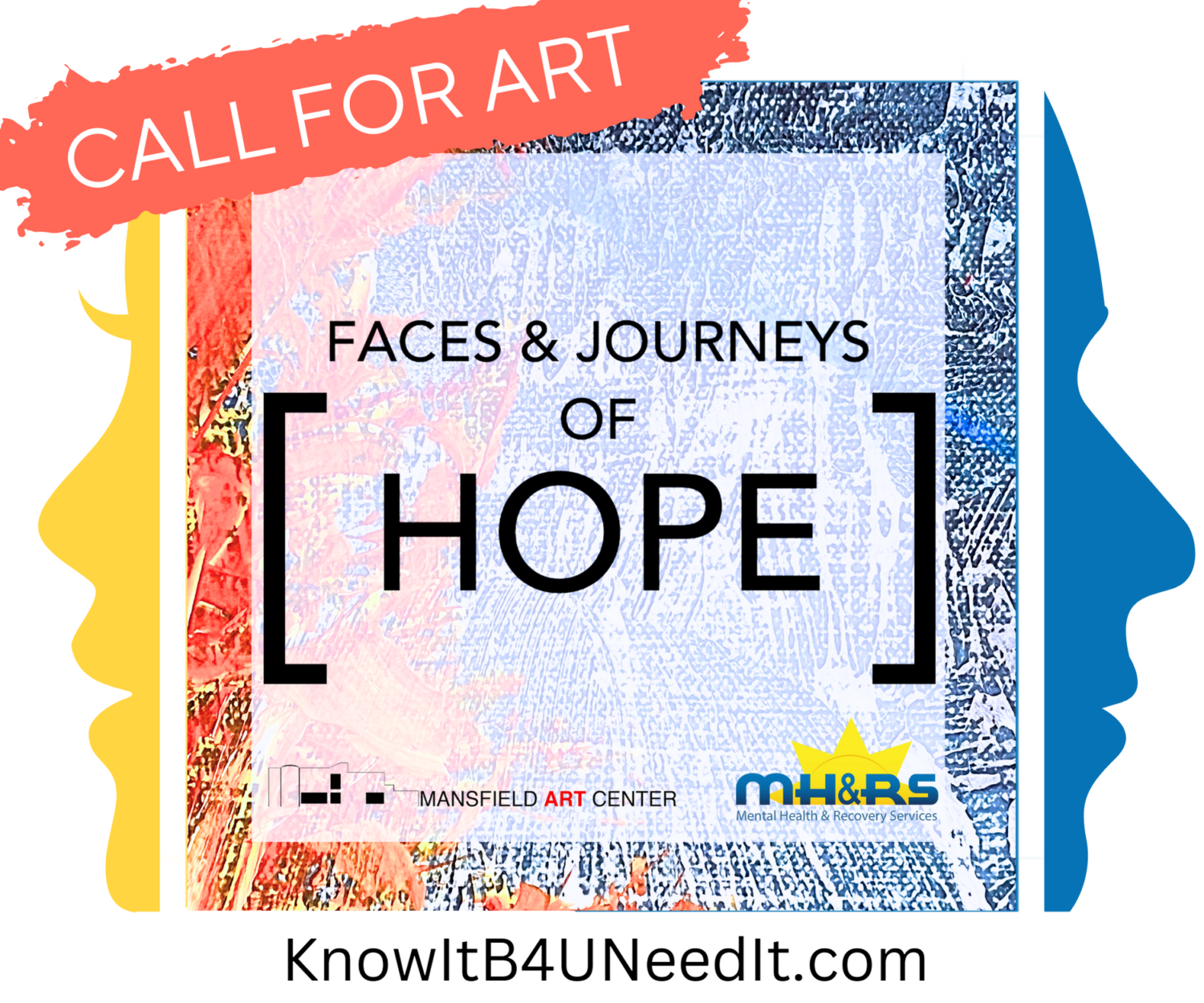 The Faces & Journeys of Hope Campaign aims to canvas Richland County with Hope. Have you created a piece of work that represents your triumph over a struggle? Are you using art to help you find recovery? Is there a person, place or thing that inspires you when you are feeling hopeless? This CALL FOR ART is an opportunity to share your story through art. Sharing your HOPE allows others to draw inspiration from your experience and create open conversations around the journey to choose wellness and connect people with sources of help.
Art will be displayed in several public venues throughout Richland County including The Mansfield Art Center, Downtown on the Square, Richland Academy of the Arts, Dan Lew Exchange, Richland County Mental Health & Recovery Services Board additional locations will be added based on the amount of art received. Each piece of ART will have the QR code to connect them with the list of mental health & recovery service agencies.
ARTIST DETAILS:
Open to all Artists
Each Person May Submit one piece of art
Artwork in any medium will be accepted
All entries must be the original composition of the artists and owned by the artist.
Subject must be viewable for public display of all ages.
ENTRY DETAILS:
Entries are accepted digitally or in person at the Richland Mental Health & Recovery Services Board, 87 East First Street, Suite L, Mansfield, Ohio 44902, Mon – Fri 8am – 4:30pm. Download a paper submission form here.
Summary Card with Artist and Art details & Artist Photograph required for each submission
Entry of work allows us to display your art online and in one of the partner locations in Richland County, Ohio.
Last Day for submissions is April 28th, 2023.
CALENDAR OF EVENTS
April 1, 2023 : Start Accepting Submission
May 16, 2023: Last Day for Submissions – we have extended the submission date from April 30th to May 16th.
May 1, 2023: We will start putting art on display. Art will be displayed publicly and online for a digital gallery.
June 30, 2023: Art will be removed and available for pickup.